Update: Korean River/Stream Bed Parks
8/15/2021 updates
Ansa city has two stream bed parks. the ansa canal and the Ansa lake.  Both are worth a future visit. Ansa city is the most multi-cultural city in Kroea and there is now a multi-cultural resturant district which has Indian, Nepalese, Vientamese, Russian, Uzbek, Mongolia, Thai and other resturants available.  Worth a trip some day.
Gimpo has a number of streams and rivers running through the city that are unnamed and undeveloped but have walking paths.  Worth a future trip some day.
8/4/2021 Updates
I found a few more stream bed parks hope to explore some day.
Cheongha International City
Cheongha International City has a nice lake park similar to Songdo Central Park.
There is a stream bed that flows through most of the city, lined with biking paths but not otherwise really developed.
Yongin City
Yongin City has a nice river side park that flows through the city. Part of the stream flows through the Yongin Recreational forest which is pretty large area. It also has Tanjeon stream that flows ultimately into the River in Seoul passing through much of Gangnam district.
 7/25/2021 Updates:
Dongkook University Stream Bed 
I discovered another stream bed park in Seoul.  It runs from Namsan Mountain through the Dongkook (Buddhist University) campus and is about a 3 kilometer mini-stream bed park lined with benches.  Very pleasant looking.  Easily assesible via subway, located on the road to the Namsan tunnel.
Pusan
Nakong River and DaeDaepo beach
DaeDaepo beach is located at the estuary of the Nakong river, just 8 k from downtown Busan.  There is a nice walking trail along the river as well. You can get to it by subway get off at sinpyeong station or take bus number 2 or 98 from Busan station.
Ilgwan Beach near the Icheon River in Gyesang County
another beach near a river head is Ilgwan beach in Gyesang county.  It is located where the river flows into the Icheon port.  the nearest subway is Donghae line exit 1 then a five minute walk. or take local bus number 180, 182, or 188 and get off at ilgwang beach stop.
Suyeong River trail and Gwangalli Beach, Busan 
at the end of the Suyeong River trail you will find a nice beach, Gwangalli beach. to get there take subway line 2 to Gwanggan or Geumyeonsan Station and walk about five minutes.
Songpa Trail opens  21 k long course along three streams 
Korea Times: July 8, 2021
When thinking of Songpa District in Seoul, images of large apartment complexes and skyscrapers may come to mind. But the district's network of walking trails, named Songpa Trail or Songpa Dullegil in Korean, is a hidden treasure of the area, created along four streams flowing through its landscape.

Songpa has had three walking courses along Seongnae and Jangji streams as well as the Han River, and the district office opened another one recently along Tan Stream, which had been off-limits for the last 51 years.

Now with the trail along the Tan Stream added, a 21.2-kilometer-long circuit has been created.

"We wanted to create walking paths or parks that residents can access in five minutes from their home and relax at any time," said Park Sung-soo, head of Songpa District Office.

Each course of Songpa Trail has different things to see and enjoy, including a rice farming experience center, bird observatories, cherry blossom roads, a forest playground for children and Jamsil Hangang Park.
The circular course take walkers to attractions in the district such as Mongchon Earthen Fortress, Seokchon-dong Ancient Tombs, Bangi Wetland and Lotte World Tower.
A bird is spotted on Seongnae Stream, one of three streams surrounding Songpa District, Seoul. Courtesy of Yim Hong-soon
"Walking along rivers, lakes, and wetlands, you can also find ecological resources that are usually found in the countryside, such as kestrels, white-necked plovers and otters," Park said.
Not everything has gone well for creating the trail since the basic plan to refurbish the Tan Stream section was prepared in October 2018.
Public access to the Tan Stream section had been restricted due to embankments and roadways. In addition, the area was designated as an ecological conservation area in 2002 for rare birds and endangered species.
Since announcing the plan, the district office underwent briefing sessions for residents twice, and consulted experts in environmental science, birds and landscaping. Through this process, it sought ways for residents to use the trails while preserving nature.
An entry into the Tan Stream Course of Songpa Trail in Songpa District, Seoul. Courtesy of Songpa District Office
"We sought to create a nature-friendly walking path without damaging the conservation area," Park said.
So in the Tan Stream section, bicycles are prohibited, nighttime access is restricted and streetlamps give off weaker light, in order to protect the birds and amphibians in the area.
Residents' voluntary participation in the creation of the trail is also notable, with those in 15 neighborhoods of the district organizing groups named Guardians to protect the environment of the streams.
The district office said it is preparing various events for residents, including a walking marathon and autumn foliage festival. Ecological exploration programs will also be prepared especially in the newly opened Tan Stream course.
Park said he plans to continue linking the Songpa Trail with other tourist attractions, traditional markets and shops to revitalize the local economy.
"We will make Songpa Trail as a place where visitors can have unique memories, and residents can enjoy a quality daily life," he said.
Seongnae Stream Songpa

Tan Stream Songpa

Jangi Stream Songpa
Songpa-gu is a district of Seoul, South Korea. Songpa is located at the southeastern part of Seoul, the capital of South Korea. Songpa is also the largest population district with 647,000 residents, in Seoul. This had been called Wirye, when it was the first capital of Baekje. Songpa is generally referred to as a part of Greater Gangnam Area along with Gangnam District and Seocho District.
Songpa plans to extend Tan stream bank alongside Songpadaero as traffic volume on the street is expected to increase. Songpa will also ease traffic by constructing a road linking Wiryeseong gil to Seongnae stream, and by connecting the unconnected section under Olympic Bridge.
Songpa District will link four nearby streams (Han River, Seongnae stream, Jangji stream and Tan stream) to one another through the dubbed Waterway Project. Songpa will be a unique island-like district when Waterway Project is completed by 2012, which is aimed at building Songpa an eco-friendly district where water, nature and human being are …

District of Water

[

edit

]

"Songpa District is a pleasant and beautiful area with nearby lake and streams." Songpa District will link four nearby streams (Han River, Seongnae stream, Jangji stream and Tan stream) to one another through the dubbed Waterway Project. Songpa will be a unique island-like district when Waterway Project is completed by 2012, which is aimed at building Songpa an eco-friendly district where water, nature and human being are harmonized with one another. Nature Eco Network is a 27 km long forest with a willow volley and a reserve of wild lives. In Walk Network, people can sense Songpa's history and culture while taking a walk, and feel the fresh air when riding a bicycle on Bicycle Network. The Seokchon lake, which was generated from the Han River as the result of the multiple purpose development of Jamsil in the 1970s, had been averted by the residents because of a nasty smell, in spite of the fact that it's the only lake in the downtown of Seoul. The smell came from water pollution from concrete materials. But, in the 2000s, it was reborn as the real rest area where attract the visitors of 20,000~30,000 on weekdays, over 50,000 on weekends and are the nests for animals and plants including aquatic plants. And, this is the result of the development project for the natural ecology park. On June, 2005, Sungnae-chun was also resuscitated as a beautiful river through the development project for the ecology river. It was a dried river due to the low volume of water flow during the 1970s~the 1980s. But in 2009 it was selected as 'the most beautiful 100 rivers in Korea' by Land, Transport and Maritime Affairs. If the four rivers in 'waterway' are the main artery, a streamlet is a vessel. Songpa District developed a streamlet alongside South Beltway (1.5 km from Ogeum intersection ~ Olympic Park intersection ~ Seongnae Stream), easing hot island phenomena and reclaiming water at the same time.

Free bicycle rental SPB system

[

edit

]

"Rent a bicycle and return it at any among 300 rental sites." Songpa has a free bicycle rent system called "Songpa Public Use Bike" or SPB, the nation's first of its kind, in which members of the system rent a bicycle free of charge 24 hours from 300 self-rental sites located every 300 meters away from one another. With a SPB membership card, one can rent a bicycle and return it at any site among 300 in Songpa. SPB system upgraded Korea's bicycle culture for sure.

Expansion of bicycle infrastructure

[

edit

]

"There are free bicycle rental houses on the 101.81km long bicycle road." Songpa made a huge success in initiating a handful of systems relating bicycle that other municipal governments rush to benchmark. There are four free bicycle rental houses on the 101.8 km long bicycle road. Anyone with an identification card can rent a bicycle free of charge. The system plays a role in saving transportation costs and promoting bicycle riding at the same time. There is a "Home-visiting bicycle repair" in Songpa, a system designed to relieve repair expense. Under the system, mechanics visit Songpa-gu offices, schools and apartments so that residents do not have to go too far to repair their bicycles.

"Songpa District has as many as 140 parks, the largest number among municipal districts in Seoul and has the highest green zone rate in Seoul."

A third of the total Songpa area is green zone: 10.98k㎡ or 32.4% of Songpa area is green zone, the highest rate among municipal districts in Seoul. Songpa District has as many as 140 parks, also the largest number in Seoul. Each park has its own theme like a flower or a plant reflected by residents' opinion. The theme of Geon-neomal Park in Garak-dong is a rose, while Baekto Park is a wild flower park. The theme of Macheon Park is a royal azalea and Jamsil Park's main theme is aquatic plant. In these parks, diverse flower festivals and events including Royal Azalea Festival, Rose Festival, Garden Balsam Dyeing Festival, Eco Culture Class, Wild Plants Operation and Aquatic Plant Exhibition are held every year.

There are cherry blossom roads alongside of Seongnae stream and Jangjicheon stream. As the trees were donated by Songpa residents and are planted by them, each tree has a name tag of the donator and is taken a good care by them. Songpa led its people to voluntarily take part in preserving the environment in the district.

Letter to NPS

Updated letter to NPS and updated photos for Cheongjecheon streambed park and updated to provide information on additional streambed parks incuding streams at Camp Humphreys and Yongsan military bases.
Letter to National Parks Director, Minister of Tourism, and KT
One of the little-known gems of Korean tourism is all the great river parks and stream bed parks throughout Korea. Getting information on these parks in English is frustrating, only a few of them have any information in English.  There are no English language maps available online and very little information. The stream bed parks and river parks are managed by local and provincial governments.  Some have extensive facilities; many have no facilities other than a walking/bike trail.
I believe it is time for the Korean National parks service to take over managing these stream bed and river parks for the benefit of all Koreans, hence they would be a welcomed addition to the national park service. Promoting them to the national park service would also promote them in both the local and international media.
Once the park service takes it over, they should standardize services across the river/streambed parks.
There should be a web page on these river and stream bed parks in a standard format, including history, trail map, nearby attractions (with links), and transportation/directions (in Korean and target language). The rest of the national parks should also be listed in the same manner. The web page and the KNP web page should be in multiple languages but at the very least in Korean, English, Chinese, Japanese, Russian, Vietnamese, Thai, Hindi, and Spanish.  The transportation section should always be in Korean and the target language. The web page should also link to the national forest park, provincial and city parks, and hiking trails throughout the country. The goal should be one web page with information on all the outdoor recreational activities available in Korea.  And they should all follow the same format.
Each river/streambed park should be stocked with fish, turtles, and frogs.  Fishing should be encouraged. The fish stocked should consist of Korean trout, water ell, and other indigenous fish. Harvesting of frogs should be legal, but not turtles.
Each river/streambed park should be lined with restaurants, cafes, coffee shops, fishing supply shops, bike, and boat rental places with views of the river and stream.  The restaurants would grill fish and frogs caught in the river and stream.
Each park would have signs and maps in four languages (Korean, English/Chinese/Japanese) throughout the park. The langague could be taken off the web page to be consistent throughout the system.
The parks would be free and open 24/7.  there would be sufficient lighting and ccv cameras everywhere to deter criminal conduct.
boats, bikes and fishing equipment would be available for rent at an affordable price.
boating should be allowed on the deeper streams.  and water taxi/ferries could be run along the deepest streams and tributaries of the river and up and down the Han river.  Revenus from opperations of the water taxi and ferry service would be split between the companies and the park service.
The model should be the Golden waterway in Gimpo.
Rental income should be devoted to the maintenance of the park. Any extra income would be sent to the NPS general maintenance fund.
Each river/stream bed park should have a citizen advisory committee consisting of representatives of the businesses in the park, and nearby citizens. The committee should advise the park service of issues related to that park and should sponsor clean the park drives once a quarter and offer volunteer conservation activities.  local schools should adopt a river or streambed park and carry out conservation activities and nature study programs in the river/streambed.  Nearby busineses should also be encoruaged to adopt a river/streambed park and encourage volunater consdervation projects in the parks.  representative of the school and firms adopting a park would of course serve on the advisory committee  This model could be extended to every park in the country.
For those streambed parks in Seoul and elsewhere they should be extended to run into the Han River.  Those in Incheon should either run into the Han River or the west sea. All other streambed parks should be extended so they flow into the nearest big river.
The Han River Park system should be extended to the headwaters of the Han River. a similar walking/bike trail system should be extended to all the major rivers in Korea. All the river trails should be linked to each other and to the nearby streambed parks as part of the national river walk trail system.
The should be annual marathon races along with the bigger stream and river parks.
Even if the NPS does not upgrade these river/streambed parks into the newest national park, the NPS should at least upgrade their web page as discussed above.
Finally, these parks could be admistered as "wild Rivers" following the sucess of the National Wild Rivers Act in the U.S. which created a framework for preserving wild rivers as special parks under the purview of the National Park Service. A similar act protects natural beaches across the country.
end letter
will post an update if i get any response.
Updated information below on Yeongjaecheon stream based on a Kindle booklet about the stream.
Over the last decade, Korea has build hundreds of stream bed parks throughout Seoul and Korea.  There are great places to take a walk, to observe wild life, to enjoy nature in the city.   There is some information in English on these parks but not enough.  For those readers in Korea, please feel free to send me info on other stream bed parks, so I can update this from time to time.
The most famous one is the one that started it all. Cheongjejon in down town Seoul.
Formerly polluted and covered with an elevated road since 2005, this stream has been cleaned up and made into an Art and nature walkway through the heart of Seoul.
Suggested Duration:
1-2 hours
It is the prototype perhaps of stream restoration.
SEOUL, South Korea — For half a century, a dark tunnel of crumbling concrete encased more than three miles of a placid stream bisecting this bustling city.
The waterway had been a centerpiece of Seoul since a king of the Choson Dynasty selected the new capital 600 years ago, enticed by the graceful meandering of the stream and its 23 tributaries. But in the industrial era after the Korean War, the stream, by then a rank open sewer, was entombed by pavement and forgotten beneath a lacework of elevated expressways as the city's population swelled toward 10 million.
Today, after a $384 million recovery project, the stream, called Cheonggyecheon, is liberated from its dank sheath and burbles between reedy banks. Picnickers cool their bare feet in its filtered water, and carp swim in its tranquil pools.
The restoration of the Cheonggyecheon is part of an expanding environmental effort in cities around the world to "daylight" rivers and streams by peeling back pavement that was built to bolster commerce and serve automobile traffic decades ago.
Environmentalists point out other benefits. Open watercourses handle flooding rains better than buried sewers do, a big consideration as global warming leads to heavier downpours. The streams also tend to cool areas overheated by sun-baked asphalt and to nourish greenery that lures wildlife as well as pedestrians.
Some political opponents have derided Seoul's remade stream as a costly folly, given that nearly all of the water flowing between its banks on a typical day is pumped there artificially from the Han River through seven miles of pipe.
My favorite though is the Golden Waterway in Gimpo north of Kimpo airport, close to Janngi station on the new Gold Line.  The Gyeongi and Gimpo tourist promotors have dubbed this "the Venice of Korea".  Not quite, but still quite nice.
.
it is a 5.9 long walk way along a stream that used to be an open sewage dump back not too long ago.  It is lined with trees, flowers, beaches, and quirky public art.  The  northern end is pretty boring though.  The central and southern end is very nice.
It is lined with restaurants and cafes, and has a boat house where you can rent boats to go out on the water.  The cost is 20,000 per hour.   a popular boat choice is the moon boat, which is a boat shaped like a crescent moon that is ideal for a couple to take out on the water.  There are also family boats and paddle boats for individuals.  There are also bikes for rent.
[4K] Beautiful evening walk along Laveniche March Avenue in Gimpo Korea Tour 김포 한강신도시 장기동 라베니체 저녁 걷기
안녕하세요 Seoul Walker 입니다.
오늘은 경기도 김포한강신도시에 위치한 라베니체 마치 에비뉴의 저녁을 함께 걸어봅시다. 깨끗해진 공기 만큼이나 아름다운 노을을 계속 볼 수 있기를 희망합니다.아침 7시, 당신을 위한 새로운 영상이 공개 됩니다.
당신의 새로운 아침, 그리고 오후 저녁 저의 영상을 보며 한결 여유로운 하루의 시작과 마무리가 되었으면 하는 바램입니다. 최대한 다채롭고 흥미로운 영상을 즐기실 수 있도록 노력하겠습니다.영상이 마음에 드셨다면 좋아요, 구독, 알림 설정 부탁드립니다.
그럼 오늘도 행복한 하루 되세요!Hello all my friends, I'm Nathan from Seoul Walker.
Today, let's walk together at Laveniche March Avenue in Hangang River New City, Gimpo, Gyeonggi-do.Ravenice March Avenue is a themed canal street created by Venetian motifs on a total of 33,000 m² waterfront commercial areas in total of 26 parcels around the golden waterway, which is an artificial waterway in the Han River New City of Gimpo, Gyeonggi Province. It is a commercial facility.
Other Streams in Seoul
Jungnangcheon stream is the biggest contributor to the Hangang River. It starts at Yangju-si, Gyeonggi-do, joins with the Cheonggyecheon stream, and curves around Geumho-dong, Seongdong-gu until it finally flows under the Bridge of Gangyeonbuk-ro and into the Hangang river.
Hongjecheon (Stream) begins at Bukhansan (Mountain) and runs for 11.1km through Jongno-gu and Mapo-gu. The stream is named after the Hongjewon, an official building where Chinese envoys were received. Once dried up and neglected, the stream was revived under Seoul's 'No Dry Streams' project. Within two short years clean water was once again flowing through both Hongjecheon (Stream) and Cheonggyecheon (Stream).
Hongjecheon
GO ENG CHN JPN
Yangjaecheon Stream and Tancheon Stream are two tributaries of the Hangang River.
Yangjaecheon (Stream)
Update:  there is a nice booklet available on Kindle called Gangnam Style by Kyungsuk Oh,  all about Yongjaecheon stream.  They recommend starting at Hangyegul station on the Orange line. At the end of the stream, it flows into the Tancheon stream and then into the Han River. When you get to the Tancheon stream, there is a nice cafe street called Cafe Street or Metasequia Street lined with eateries.  if you keep going along the Tangcheon stream, you enter into the Han river park system, or you could follow the Tancheon stream bed park back towards the mountains.
Yangjaecheon (Stream) originates from Gwanaksan (Mountain) and Cheonggyesan (Mountain). The 15.6km stream flows across Gwacheon and into the Gangnam district in Seoul until it joins up with the Hangang (River). The stream flows across Dogok-dong and Gaepo-dong in the district of Gangnam, and is a popular spot with locals for its well-paved pedestrian and cycling paths. It is a pleasant patch of green in a concrete jungle. Many Seoulites visit the stream for relaxation and to spend a day being closer to nature.
Tancheon Stream is another one of the Hangang's tributaries.
The stream is 35.6km long and starts in the city of Yongin in GyeongGi Province and ends at the Hangang River in Gangnam-gu, Seoul.
Phone

+82-2-2155-7153
Website
Website Language

KOR
Address

135-090
Transportation

* Subway Line 3, Maebong Station, Exits 3 & 4 (5 mins on foot)
* Subway Line 3 & Bundang Line, Dogok Station, Exits 3 & 4 (5 mins on foot)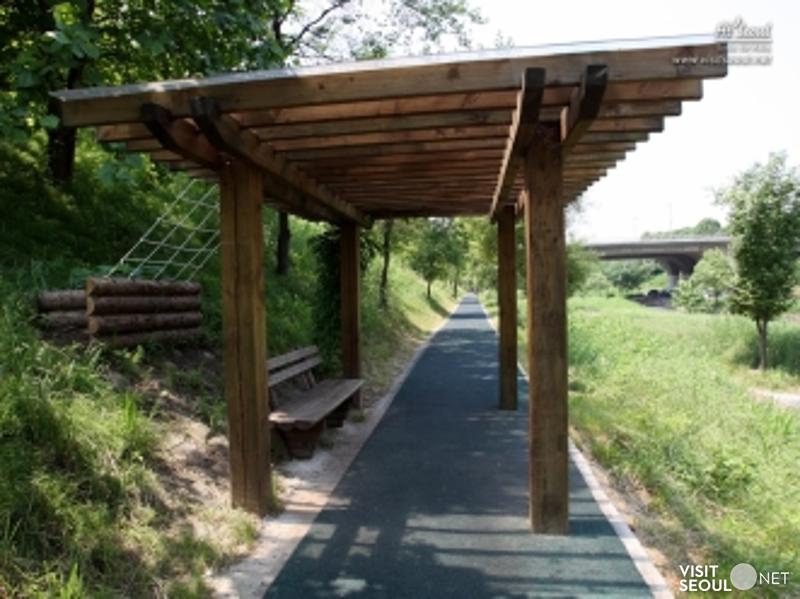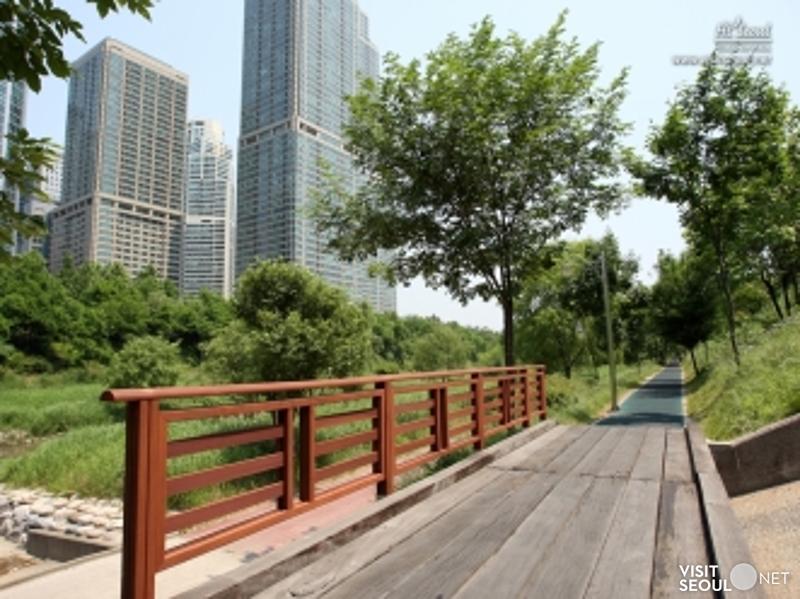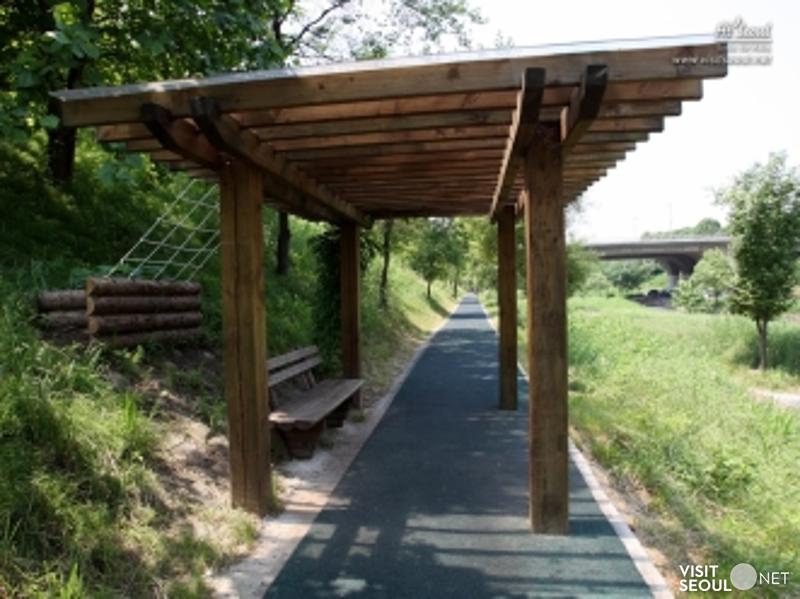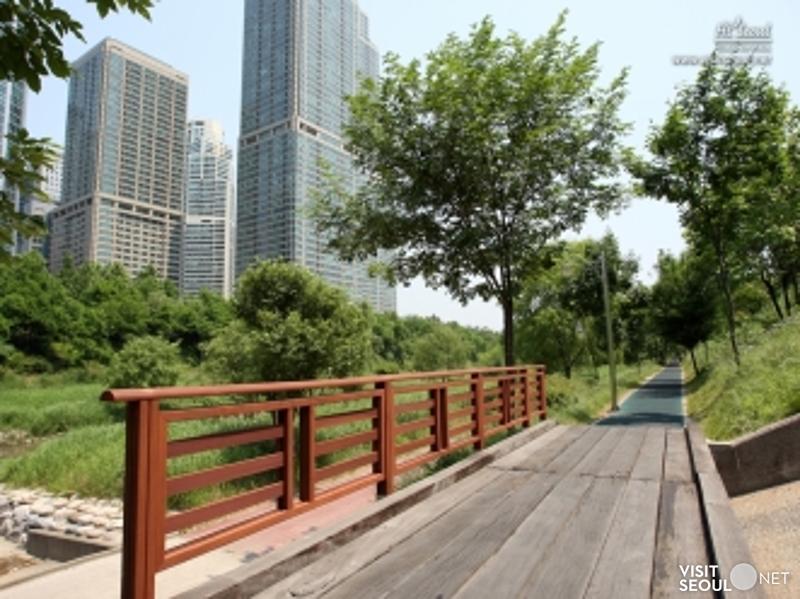 Hanyeoul Stream, is a tributary of the Hangang River.
The stream is 18.5km long and flows from Gwacheong in GyeongGi Province to the southern part of Seoul. The stream's name is derived from the area in Seoul it flows through, Yangjae-dong.
Stroll along the peaceful promenade of Songdo Central Park and view sculptures and animals. Here pretty grassy spaces border a manmade waterway while skyscrapers tower nearby. Completed in 2009, the stylish city park has become a landmark of the large city of Incheon in South Korea's northwestern region.

In 2001, Incheon began creating Songdo International Business District on mostly reclaimed land. The multi-functional space offers residents a pleasant and sustainable place for home, work, school and leisure. The 101-acre (41-hectare) park is an integral part of the overall design. Join residents and other visitors using this vast green space and exploring the cultural institutions surrounding the park.

One highlight of the park is the seawater canal symbolizing the rivers of Korea flowing to the West Sea. Cruise along the canal under your own power in a canoe with sun umbrellas or on a comfortable water-taxi or small cruise boat.

Gaze at and visit some of the futuristic buildings surrounding the park. Tri-Bowl, with the appearance of a bowl resting on water, has cultural event spaces. The Songdo G-Tower's diagonal lines and atriums provide a stunning setting for the offices of IFEZ (Incheon Free Economic Zone) Authority. Visit the building's 29th-floor Sky Garden for views across the city.

suwon stream

suwon stream 2

Most of the streams passing through Suwon originate on Gwanggyosan or other nearby peaks. Since Suwon is bounded to the east by other hills, the streams, chiefly the Suwoncheon (and one notable tributary being the Jungbocheon), flow southwards through the city, eventually emptying into the Yellow Sea at Asan Bay. The entirety of Suwon is  drained in this manner

Manisan Stream

Manisan in Gangwha Island has a delightful stream running through the mountain. the trail follows the stream for the first mile or so.

Updated List of Korean Stream Bed Parks

I found a few more Korean Streambed parks to explore someday.

Otkachon in Seoul near Hweyasan Temple

Anyang Stream near Anyang

Gitawana Stream in Seoul

Tanchan in Seoul

Hongjechon in Seoul

Pyengwha park stream in Mapo

Incheon

Gulpu

Seungri

Jangsu

Other Streambed Parks

Goumchon in Paju north of Seoul

Gongneung North of Seoul

Pungmu in Gimpo near gold line Pungmu station

Sincheon in Daegu

Yeojawachon near Changwon

Bukhan near Yangpeyong

Neul Park part of Han River parks

Camp Humphreys

there is a long canal stream bed park in Camp Humphreys called Canal walk. it is a jogging and bike path that runs throughout the base. Right now it is pretty baren with not much shade as it is brand new but over time the trees will grow and it will become a nice place to take a walk when you on base.

Yongsang Stream

There is an old stream bed that runs through Yongsan base lined with tall trees.  Hopefully the authorities will keep it as they turn the base into a grand park.

Kwangwhamoon stream

there is a small stream underneath Kwangwhamoon and I understand though I might be wrong, that they are going to restore it as part of the transfromation of Kwangwhamoon into a grand plaza.  Hope they do and link it to Chongjecheon or Hongcheon both of which are nearby.  That would be nice.

the end
Please follow and like us: